Preston & Sons' recognition of excellence.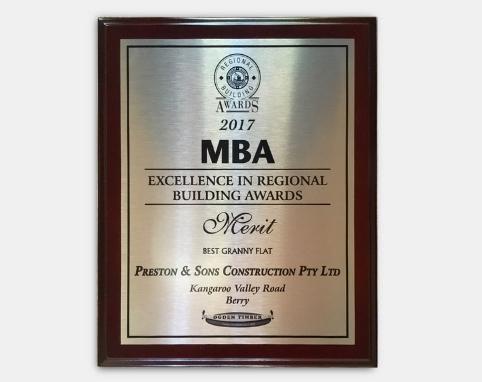 Regional Master Builders Award

Best Granny Flat

This free standing "Granny Flat" in Berry will be used as a Home Stay apartment. The owners required a quirky finish to represent an old barn with Colorbond cladding tempered with a vertical timber facade. The interior has three faux truss's backed with galvanised custom orb and including 2nd hand Colorbond as a feature. The kitchen has all modern appliances and the spacious lounge area has large bi-fold doors looking out to the deck and garden. The bathroom has a basin and tap ware originally from France, one of the finest we've seen. You can book this charming atmospheric Home Stay by calling Peter on 0416 213 616.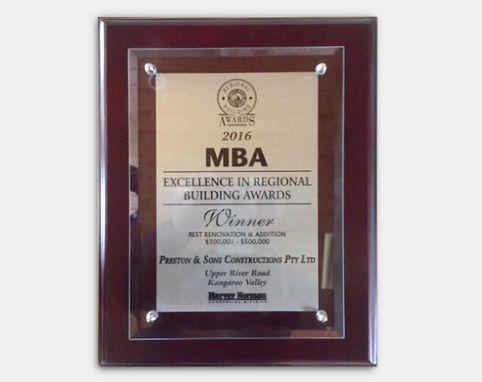 Regional Master Builders Award

Best Renovation & Addition under $500,000

This renovation including lengthening the building to incorporate rooms both downstairs and upstairs included two new bathrooms. A brick and stone clad fireplace gives the lounge a rustic country feel while warming the whole house in the winter months. The project required new colorbond roofing to the entire building and included both existing dormers and three new ones.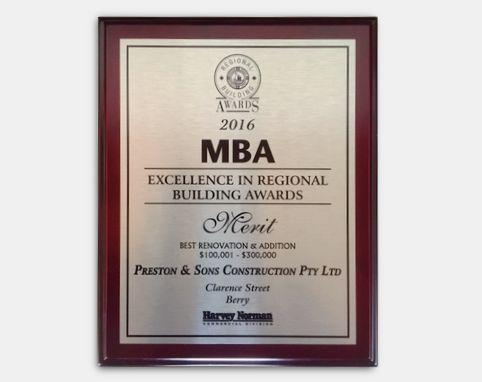 Regional Master Builders Award

Best Renovation & Addition under $300,000

This was an extensive renovation addition which required the finished building to have a seamless feel by knitting in the original and new part. A polished concrete floor to the dining and kitchen area gave a robust feel to that area. The covered deck looks over the new pool allowing a quiet area and safe place for the children to play in.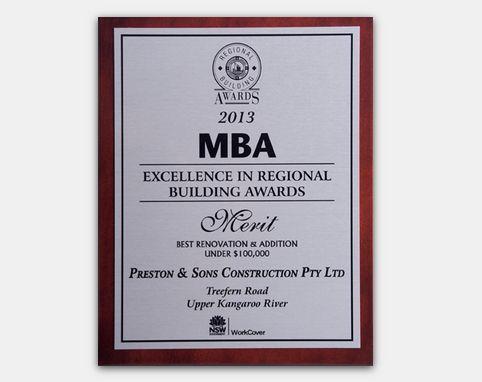 Regional Master Builders Award

Best Renovation / Addition under $100,000

Our client wanted us to extend their home by adding a room which would create an inside outside living experience. The extended room is designed to shut out the elements of bad weather and can be opened up totally when the weather is suitable in order to capture the magnificent views of Kangaroo Valley.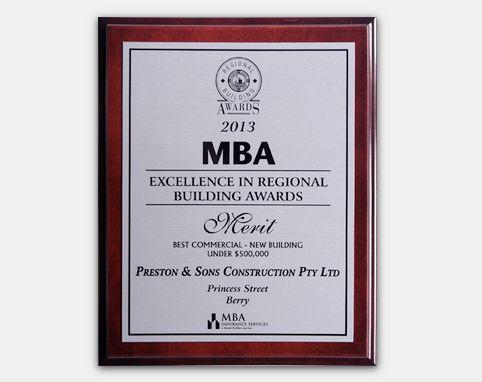 Regional Master Builders Award

Best Commercial - New Building under $500,000

This open face colour bond finish offers a suitably sophisticated yet trendy finished product. You can still achieve a good-looking product on a tight budget.

This addition to the Angican Church Hall building in Berry allowed for a seamless fit to an existing upgraded kitchen to service the needs of the congregation, two large meeting rooms including store rooms and a toilet block all joined by an extensive deck. At the rear a further store room is attached to service the children's gated play area.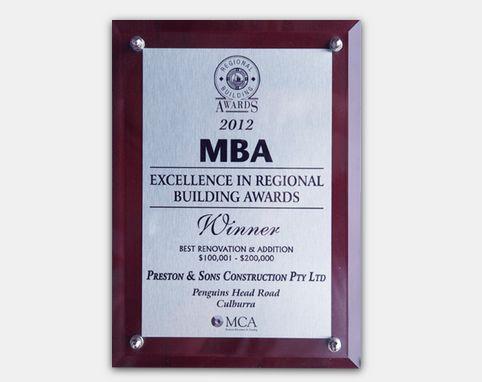 Regional Master Builders Award

Best Renovation / Addition $100,001 - $200,000

It was our ambition to create a totally inside outside living experience by modifying our existing home and expanding the deck to take full advantage of our stunning view of Culburra Beach. To achieve this the team had to use specialised materials such as super sized glass door frames with an open span of 11 metres and an architect designed free standing louvered deck covering. Quite an achievement and what a beautiful and practical result - exactly as we had envisioned. Preston&Sons is a professional and reliable building company and we recommend them to anyone who would like to see their dream become a reality.

Doug and Leonie Sinclair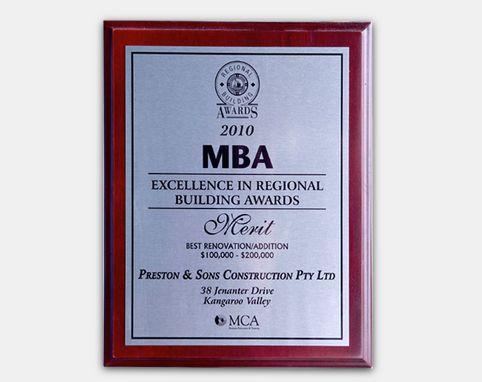 Master Builders Award

Best Renovation / Addition $100,001 - $200,000

The Hatcher project presented us with a twenty year old home that had very good basic fabric but which had aged out of fashion and in some cases out of practicality.

The renovation entailed the complete refurbishment of all rooms including two bathrooms, laundry, separate toilet, kitchen, media room, lounge room and the inclusion of a new portico and deck area. The portico structure was designed by Preston & Sons and included booker bars within the truss, used as a brace, which allowed us to minimise visual impairment of the structure and the view, afforded from the lounge area.

The construction and finishing part of the job came in at $148,000 with all PC's supplied by the owner, coming in at about $40,000. See details of the renovation.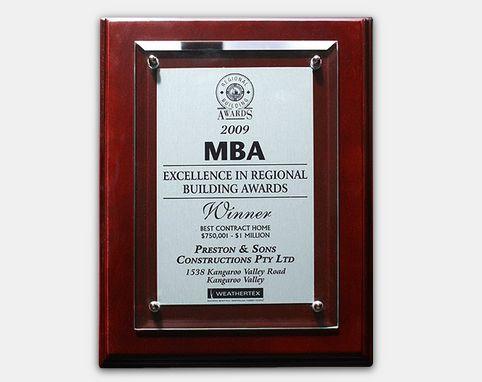 Regional Master Builders Award

Best Contract Home $750,001 - $1 Million

Preston & Sons are proud to announce that they have succeeded in winning the Master Building Association award for excellence in regional building for the category of contract homes from $750,001 to 1 million dollars.

A message from the directors We would like to thank the whole team of subcontractors who helped us get this project over the line. Special mention must also be given to the designer of this home Matt Beggs Design.

This home was truly a great design and it was a pleasure to work with Matt and his team on this job.